A year of firsts
A year ago today I kissed my dad for the last time and said goodbye.  Today is the last of the "firsts" that we as a family, have had to work our way through in the year since his death.  We had our first Fathers' day only a week after he passed away, we've been through our first Xmas without Dad, and in late July we passed the first anniversary of his birthday.  None of which were particularly easy … obviously.
The old saying t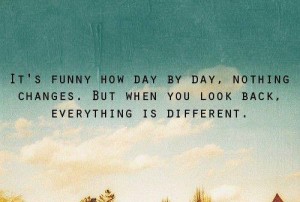 hat time is a great healer – well I am still undecided on that.  The daily pain of losing dad has definitely lessened but I am far from healed.  Sometimes I wonder if I ever will be fully healed and I guess that is simply the journey of grief.  Now there is an innate sense of emptiness that exists within me and that's my reality of missing dad.
It has been a bumpy journey for my kids losing their Old Mac too.  We share openly and honestly when we think about, or get sad about our loss – there have been a couple of times at school for Talia in particular that have rocked the boat, where she has come home in tears because of something she has seen or done, that has reminded her of Old Mac and it's all just got a bit much.
Grief … the beast that you simply can't 'fix'.  Grief … it sneaks up on you when you're least expecting it and trips you up, landing you smack bang on your face and ass simultaneously.  Grief … the elephant in the room.  Grief … the destroyer of all you thought was forever.  Grief … the catalyst for change.  Grief … the roller coaster ride that never fully stops to let you off.
I will always love you dad and I will always miss you, as will Talia and Jackson who absolutely adore you.
I hope you are having a grand old time catching up with friends and family who passed before you; Shorty, RJC, Aunty Robin, Monzee and co. and that you are watching over us always.
I promise you that every time I open a bottle of South Australian Shiraz, I will enjoy an extra glass for you.  Oh … and that whenever a single malt whisky may pass my lips I will have an extra dram, or a sneeky wee Drambuie … I'm good like that.  I love you.  See you on the flip side xxx
Cha Bhithidh a Leithid ami riamh – (His equal will never be among us again)
Macca – August 30th, 2016