Today is bin night. I have to get my wheelie bins out for rubbish pick up first thing in the morning. Being of Scottish descent (well that's my excuse …) I like to ensure my wheelie bins are full. Like chokka block full. Like you can't fit one extra thing in there without making the lid pop open full. Some people call that tight … I'm sure you get the picture …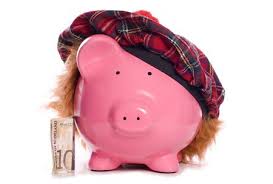 But … a conundrum … my bin is only half full and I have no additional rubbish. I look to my garden – aka "the jungle of weeds".  I have a love/hate relationship with my garden.  I love looking at it when its all pretty and lush and I love eating the produce out of it, but I hate all the bloody weeding.  I look at that garden with a curled up lip and I sigh. There lies my solution.  And … It's raining. Like really raining and by the look of the sky and the weather forecast … that's not going to change any time soon.
So … with my Scottish ancestry whispering through my veins I put on my gumboots and a rain jacket, and I haul my wheelie bin up to the garden and get stuck in.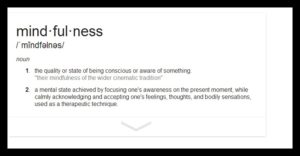 Within five minutes I have a smile on my face. I am achieving. I am filling up my bin with weeds.  I am doing my vege garden a massive favour by starting to untangle the choke-hold of weeds. I am enjoying inhaling the sweet smell of freshly turned over dirt. I am achieving.
I have rain dripping down my butt crack, winding its way down off the back of my rain jacket and down the back of my pants. Nice. But … I'm still smiling … and I am achieving – with a happy heart.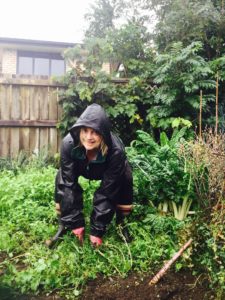 The rain gets heavier … my smile gets wider and then I feel a moment of appreciation. I acknowledge how appreciative and grateful I am to have this awesome vege garden, weeds and all. My family are nurtured by the food we grow in this garden and the weeds are all part of the story. We are so very fortunate.
I fill the bin in no time at all and I feel bloody top notch looking at the section of my massive garden now weeded and ready for some nourishment and love!
I take the bin out to the road with a smile and feel thankful and accepting of this "mindfulness in action".
Macca ~ March 29th 2017